the gym for fitness in Middleton Community Second,
fun always
Middleton's Home Of Fitness in a fun, family environment
meet a tribe of like-minded people who inspire you to be your best self 
learn movements with proper form to prevent injury & boost confidence
get more done in less time our coaches guide and keep you focused
add structure for fitness, nutrition & recovery to hit goals without stress!
WE ARE MORE THAN A WORKOUT
DISCOVER WHAT YOU ARE CAPABLE OF
We make sure that every single person that joins our Middleton community feels welcomed and leaves every single workout feeling more confident in their bodies than ever before. This is a community that is based on helping each other achieve their goals.
Our friendly, world-class trainers will eliminate the guesswork in your workouts, coach, and guide you through challenging (but really fun) workouts in the Middleton area. We will provide the perfect combination of coaching and accountability, allowing you to focus on what matters most.
 Middleton provides an incredibly supportive environment to pursue fitness, train hard while pursuing your goals. Middleton's emphasis on teamwork and accountability will help you in achieving what you want most out of life. Sign up today!
FUNCTIONAL FITNESS PROGRAMS
TAILORED TO MEET YOU WHERE YOU ARE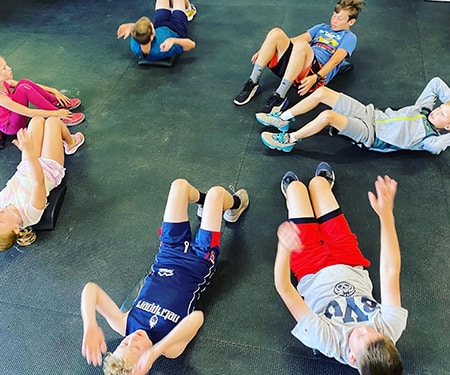 Short 30 minute class that focuses on bodyweight, functional movement exploration, play, listening, motor skill development, and basic nutrition concepts.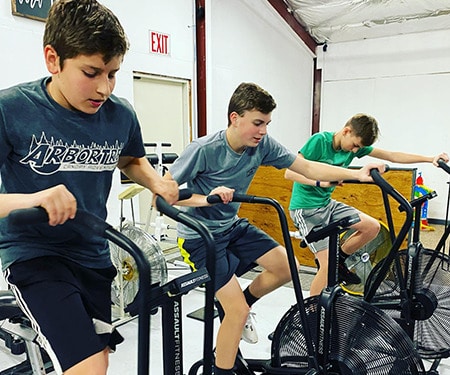 45 minute to 1 hour classes that focus on pairing fitness with fun. Our kids program covers proper functional movement and continuation of motor skill development (balance, agility, coordination, accuracy, speed, etc.), vestibular development and kinesthetic awareness that will set kids up to be successful in life and/or sports.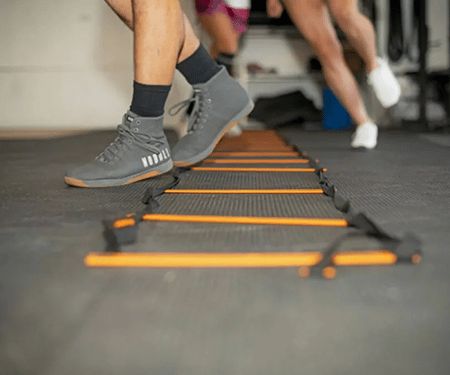 Continues on the development of functional fitness, injury prevention, fine tuning athletic skills, and creating a love for fitness beyond just play! We want confidence to be built and passion to pursue virtuosity in movement and life to be built.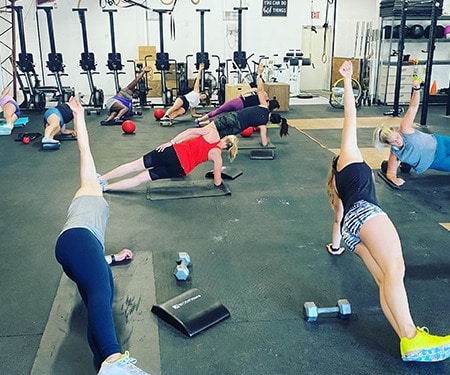 These are opportunities for individuals to come and drill down into specific skills that give them trouble or they just want to improve upon.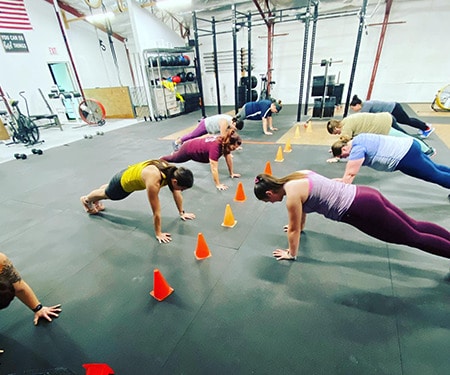 Show up and get ready to sweat.  This one hour class is packed from beginning to end,  a combination of movements which reflect the best aspects of gymnastics, weightlifting, running, rowing, and more. think of this as semi-personal training in a fun, encouraging, group setting.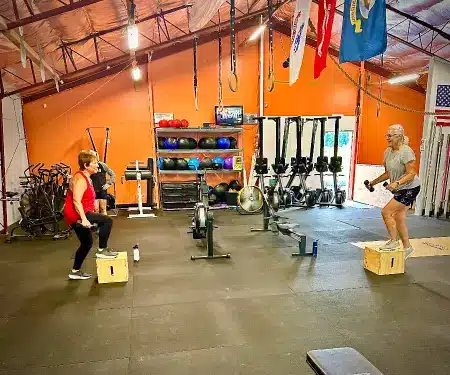 This class is designed for adults who have hit their "prime time" in life and also
athletes who may have ailments or other limitations requiring modifications. At this class you will learn how to
safely maintain the range of motion and movements required by life. We accept Renew Active/One Pass
Medicare to offset the cost of the class.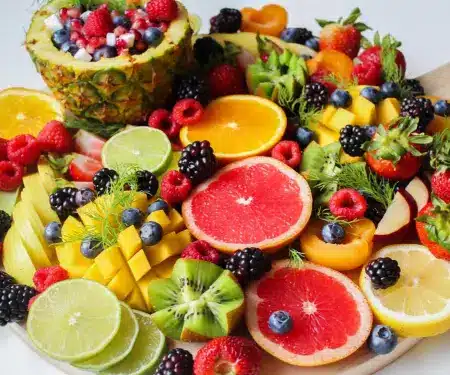 Stop dieting and restricting yourself and start focusing on healthy habits with a proven personalized plan. SideYard Training CrossFit's nutrition is founded in creating real change, education, and world-class coaching.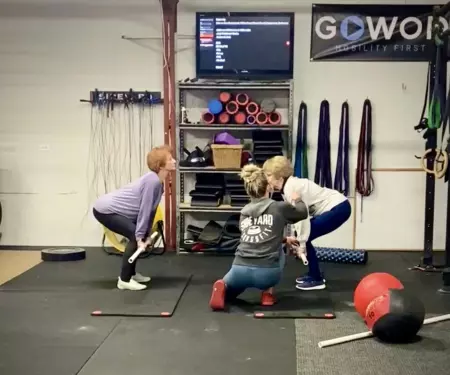 This class will introduce athletes new to CrossFit to the foundational movements to set you up for success in our group workouts. For your safety and benefit, these sessions are required for all members new to CrossFit. Sessions are typically one-on-one or small groups.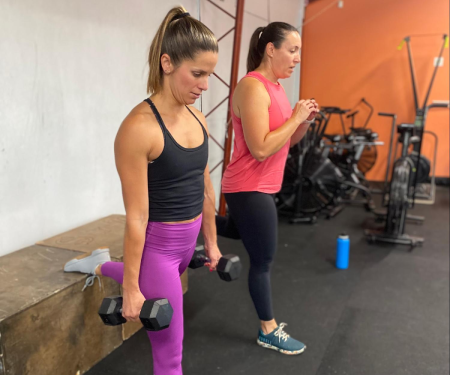 Come be a part of the SideYard family by joining SideYard BURN! This class is designed with fun, safety, and functionality. Athletes will participate in HIIT style, cardio and strength workouts, BURN mega calories and sweat! Class sizes are limited for personal experience.
WHAT PEOPLE ARE SAYING...

Rebecca Holmstead
SideYard Training CrossFit MEMBER
I walked into this gym a couple months ago scared out of mind because I had no idea what I was getting myself into. However, that quickly changed as I was welcomed with open arms and smiles and helped every step of the way. The staff are so friendly, the owner is incredible, and most importantly I feel more confident, strong, and healthy. I highly recommend Sideyard Training and encourage everyone to JUST TRY IT!

Sheron McKnight
SideYard Training CrossFit MEMBER​
Wow! AMAZING WORKOUTS! Sharene is superwoman with skills! She runs a tight program with amazing variety and targets every single muscle in your body...even ones you didn't know you had 😮 . Her staff is awesome and every single one of them care about your safety and success. The workout is tough and is adjusted to every skill level on the spot, the challenges are legit and the support is unlike any gym I have ever seen. Sharene and her staff are AMAZING! If you want to get in shape, stay that way and improve mentally & physically, Sideyard cannot be beat!

Katie Sager
SideYard Training CrossFit MEMBER​
Love Sideyard! If you are new to CrossFit, or even more advanced, they make you feel like part of a team. Also love that they have a kids program so your entire family can develop healthy habits. ❤️

Rachel Franks
SideYard Training CrossFit MEMBER​
Amazing place to workout! Friendly atmosphere with workout buddies that become like family. Awesome coaches who deeply care about their clients health and success. Highly recommended!
ARE YOU READY TO LEVEL UP?
SideYard Training CrossFit


We welcome drop-in's from other gym's all over the world! Click here for drop-in details. If you are considering joining our gym, your drop in fee will be credited back to you at sign up. Click the button below to get started!
MONDAY
TUESDAY
WEDNESDAY
THURSDAY
FRIDAY
SATURDAY
MONDAY
CrossFit
5:00 AM
CrossFit
6:00 AM
CrossFit
7:00 AM


CrossFit
5:00 PM
CrossFit
6:00 PM
Olympic Lifting
7:00 PM
CrossFit
8:00 PM
TUESDAY
WEDNESDAY
THURSDAY
FRIDAY
SATURDAY
SideYard Training CrossFit
13287 ID-44, Caldwell, ID 83607, USA